The Education Trust Fund of CFUW Saanich Peninsula
The ETF is a registered charity that supports lifelong learning for residents of the Saanich Peninsula.
The ETF allows contributions to specific projects in registered charities in the province of BC that support education and literacy initiatives at diverse age levels.
_______________________________
SCHOLARSHIPS AT SECONDARY SCHOOLS, CAMOSUN COLLEGE and UNIVERSITY OF VICTORIA
Members of the Saanich Peninsula CFUW club raise money in a variety of ways to provide scholarships to graduating students of the four secondary schools in School District #63 (Saanich). Claremont, Parklands, Stellys and the Individual Learning Centre each year receive at least $1000 to award to deserving students.
As well, the Audrey and Carl Mawby History Scholarship at the University of Victoria is an ongoing endowment and there are two scholarships awarded at Camosun College annually. The Camosun College award Endowment is for a student completing second year of study and entering a degree- granting program at an accredited institution or a female student entering her second year of study in the Engineering Technology Program. The Camosun College First Nations award is for a W'SANEC Nation student entering the final year or a degree or university-transfer of a professional studies program.
_______________________________
PROJECTS AT INDIVIDUAL LEARNING CENTER
In 2019, CFUW Saanich Peninsula donated $3000 to the Individual Learning Centre for their new T.E.A.M. program (Teen Education and Motherhood program) as a number of students were new moms. The money raised was from a Mama Mia Fashion held in May at the Shoal Centre featuring models of all ages (from age 4 to senior citizens). Here is the description of the program which was featured in Seaside magazine in November of 2018 written by Donna Miller and Wendy Walker:
T.E.A.M. (Teen Education and Motherhood)
What's in an acronym? Many connotations, but this one represents a new program for the ILC
(Individualized learning Centre) Saanichton, School District 63. T.E.A.M. (Teen Education and
Motherhood) could also mean Together Everyone Achieves More as this is the reality of how this new
program has evolved.
Several teen moms were enrolled at ILC and the Principal, Wendy Walker, last year learned of Moms and Mentors started by Public Health Nurse, Maureen Hobbs 30 years ago in Sooke School District; collaborated with Maureen as well as local CFUW (Canadian Federation of University Women) member, Donna Miller, a retired Sooke Community Educator, who had been a sponsor of Moms and Mentors.
The seed was planted to establish a similar M&M program but with more partnerships–particularly Beacon Community Services, which had established the Beacon Community Care infant/preschool program on the Saanichton campus. Beacon has recently hired a Young Parent Liaison, Donna Douglas, who works with the young moms to connect them to community support services, school transition and respond to individual needs.
The ILC is a very popular program as its focus is on the core academics but personalizes the program to suit individual needs, allowing students to work at their own pace. This year there are five new moms attending as well as young dads with a goal of meeting the BC Ministry of Education graduation
requirements. Parenting skills are taught in addition to the core subjects. As well, students can enroll in skill-based programs such as hairdressing provided by VIU (Vancouver Island University) or T.A.S.K (Trades sampler program) offered by Camosun College.These community partnerships enhance ILC, particularly this new T.E.A.M. Program, not only with moral support but financially.
Last spring, CFUW Saanich Peninsula organized a Fashion Show and silent auction fund raiser called Mama Mia for the teen mom program featuring women's fashions from Suzanne's and Jenny's in Sidney and children's clothing from local Thrift Shops (demonstrating how to live within a limited budget). The Thrift Store carefully selected finds were modelled by young children and woven into the new outfits from Suzanne's modelled by some ILC students and CFUW members.
The event raised $3000 and inspired many CFUW members to volunteer to be mentors to the moms
after hearing Maureen Hobbs describe the tremendous impact such a program had on young moms, inspiring them graduate, then go onto post-secondary programs.
Young parents face multiple barriers while completing high school requirements; one of the most challenging is transportation. The transit system on the Peninsula makes school attendance difficult. Hopefully, a service club may see the value of purchasing a van to assist these young people to get to school.
The ripple effect of educating a teen mom, educates the whole family
To find out more about T.E.A.M. or volunteer please contact Wendy Walker at
wwalker@saanichschools.ca
_______________________________
DONATION TO SAANICH PENINSULA HEALTHCARE FOUNDATION FOR THEIR PROFESSIONAL DEVELOPMENT FUND
_______________________________
In 2019, CFUW nationally is celebrating its 100th anniversary
Each club has been encouraged to choose a special project to honour this auspicious anniversary.
Our club voted to donate $5000 to the Saanich Peninsula Healthcare Foundation for their Professional Development Fund
The club decided to augment the Saanich Peninsula Healthcare Foundation Fund and do something locally, in the health field in a needed area such as upgrading the skill set of Licensed Practical Nurses for new positions at the Saanich Peninsula Hospital:
Rehabilitation Assistant (to recondition muscles after an accident, or working with stroke patients)

Ortho Technologist (casting for injuries, bone breakages etc. working collaboratively with the ER staff.)

Respiratory Technologist- (assessing lung functioning)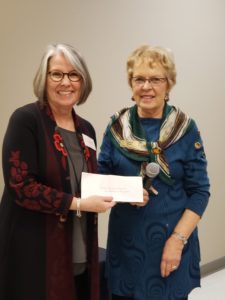 The $5000 cheque was presented to Karen Morgan, Executive Director of the Foundation at the February 26th meeting of CFUW Saanich Peninsula.
_______________________________
In addition to participating at our fundraising events people can contribute directly to our Canada Revenue Registered Charity:
CANADIAN FEDERATION OF UNIVERSITY WOMEN – SAANICH PENINSULA EDUCATION TRUST FUND
868192766 RR0001
c/o CFUW Saanich Peninsula,

Box 20062, Monks Letter Box, Sidney, BC V8L 5C9